Focusing USA service closer to home (Toronto)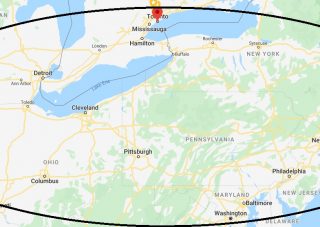 Since late 2017, we have focused our service between USA points within 600 miles from Toronto. This strategic move has brought several advantages to both our customers and drivers.
For Customers:
–Added assurance for On-time performance: Due to the frequent traffic of HANM trucks in the same area, our already well-known on-time performance now has 2nd and 3rd, maybe even 4th back up solution as substituting driver / truck is now much easier and possible in case of breakdown or any other issue that may arise. When being late is not an option, you can depend on HANM performance.
For Drivers:
–Utilizing every minute of your available time: As the distance is almost exactly 1 day's hours-of-service amount, your valuable time outside is well-spent for earning miles. Our drivers make as high as around 13,000 miles per month.
–More home time: At the end of each 2-day trip (1 day out, 1 day in), you get to spend the night at home, while you make 10 hours daily off time. After 2 or 3 trips, you get to spend more than 36 at home, while making 36 hours weekly reset. That is more than 56 hours a week, almost 2.5 days, while making around 13,000 miles!
There are other benefits such as the trucks being looked after every few days to ensure top performance and no breakdown and drivers getting familiar with driving same regions repeatedly.
HANM invested a lot of resources into this new system, and we are happy to say that it's been working fantastically!