Pay Table for Company Drivers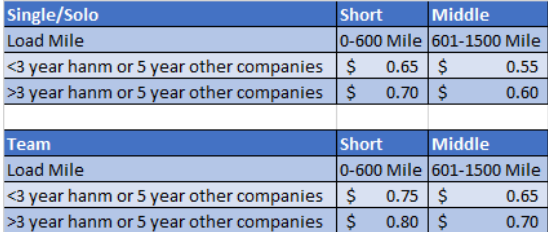 Empty and loaded miles paid same!
Local trucks do most of Ontario pick up and deliveries. You simply drop & go home or hook & go to delivery!
Consistent California trips for Team drivers (+4 trips with +8 home days, or more trips with less home time – Choice is yours!)
Consistent Short haul trips for Single drivers (less than 600 mile range) +3 trips per week. You don't have to go NY City!
No more stop for fax! We provide in-cab printers so you can print right in the truck!
No more complicated pay schedule . Just your simple and great pocket money.
We respect & love to learn different cultures!
We speak English, Korean, and Chinese as our first languages!
New equipment! 2 years old average new trucks!
Prepass to pass weigh stations and automatically pay for your tolls!
Do you want group health benefit or support for your phone payment? You choose!
HanM company drivers who drive for 1 year without any issues will be paid $0.55 / mile, regardless of experience.
Owner / Operators' Pay:
$1.70 per mile
Reefer fuel covered by HanM.
Insurance covered by HanM.
Extra pickups / drops and layover
$30 per extra pu/drop – company driver (CD) and OO
$20 per hour detention after 3 hours up to $100 – CD
$25 per hour detention after 3 hours up to $125 – OO
$100 layover if not able to load before the end of the next day after last drop. – CD
$125 layover if not able to load before the end of the next day after last drop. – OO
Layover is paid if the driver loses a full day while away from home. Full day is defined by the calendar day and not 24 hours from the last delivery.
What HanM pays for O/Os
Insurance
Reefer Fuel
Toll Fees
All State Permits
Plates / IRP
IFTA
Border expenses
Trailer Washout
All load related travel expenses such as fax and scale
What HanM pays for Company Drivers
All of the items on O/O list above plus:
Smart phone
Pulp thermometer
Fuel
All Drivers are responsible for providing his/her own
Truck GPS
Safety Vest
Steel-toed Boots
Hard Hat
Gloves
Safety Glasses
Health Insurance
We give drivers the option of signing up for a health insurance that includes a variety of benefits or receive support on their cell phone payments.
Travel Insurance
We provide free travel insurance for all drivers including owner operators. You can have peace of mind knowing you'll be covered for medical emergencies while operating out of province.
You must have a minimum of 3 year North American (USA and Canada) experience with semi-trailers.
To apply, go to the APPLICATION FORM page.
– OR –
Please download and complete this APPLICATION FORM

. Send the application form by fax to 416-787-6819 or email to info@hanmtransportation.com
You will need either Adobe Reader or a compatible software to view the application form. Install one of the programs below to view PDF files.
For general information, please contact us for more information.
[/box]